Frankincense Soap
Bar soap
About this product
Frankincense is known world wide for its ability to cleanse the air preventing sickness from spreading.
Frankincense is stimulating and disinfecting. It also helps relieve depression, elevate your mind, and help fight viruses by supporting the immune system.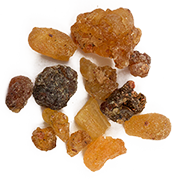 Frankincense
Boswellia sacra
Use Frankincense soap in the morning to start the day off with a positive boost as frankincense helps reduces negative feelings and Opas Frankincense will help ward off bacteria, and combat acne. Enjoy extra moisture with this soap as shea butter heals, protects, and helps restore the skin's elasticity and hydrolipidic film further assisting with dry thirsty skin. May also help renew skin cells, heal scars and wounds.
What a great combination to start improving your skin and overall health!
Frankincense is used traditionally to:
Uplift the mood
Reduce inflammation
Clarify the mind
Relieve irritation
Strengthen the immune system
Disinfect
Relieve Pain
Ingredients: Distilled Water, Saponified Oils of Sustainable Coconut, Shea Butter, Organic Palm Kernel, RSPO Certified Palm, Vitamin E, Frankincense, Myrrh, Jamarosa